Hi all, brand new here and to laser engraving / cutting. Lots of useful info on here!
But i could not find anything about why my laser is cutting perfectly on the left side but charring the crap out of the wood on the right (wider cut AND chars around the pattern to the point of it being useless).
I also have experienced issues when pressing "start" in LB versus the start button on the ruida. If i do it on LB the thing just goes crazy and instead of an array of one pattern just overlaps the first (upper right corne) pattern in the array. When I Send to laser & hit start on Ruida I do not get this issue.
Let me know please, any help is appreciated!
Koda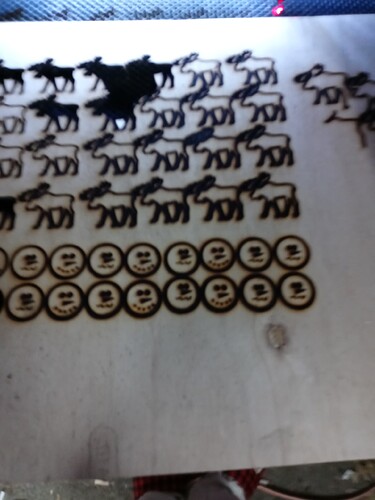 In the picture- far upper right corner is with pressing start on LB. Then the arrays after pressing start on ruida (some of the mooses on the left popped out upon picking it up - exactly what I want to happen - since they cut so nicely).
Guess i should also note that i only tried burning text once and for some reason it cut with every letter backwards.