Hi I'm John - I'm new to this and I'm having a blast.
I have a SainSmart 3018 with the 5500mW diode and after getting it to jog, test-fire and focus i decided that festive holiday marshmallows were the of the utmost importance.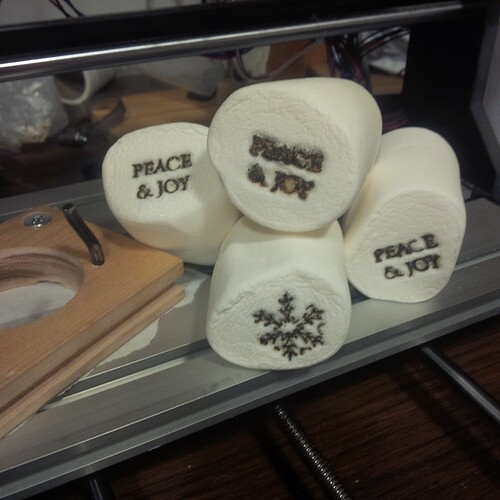 I did have some strange stuff toward the end of my evening as the temperature dropped to -15C (5F). I'm not sure if it was smoke from the Ablating marshmallow or some physical reaction with a frozen Marshmallow but some letters were raised, blistered and distorted (PEACE & JOY - Top) but I'll burn a few more for garlands and ornaments and call it good. Art done in Line - Speed is 1.5mm/sec - 80% power - Continuous power. Air assist seemed to cool the work piece too much. i think a small cooling fan and a loose air duct might work better than a nozzle and an air compressor.
My garage smells amazing - I hope the mice aren't attracted to it.
They do however taste terrible - Much like my clumsy fire-pit experiences there is no tasty caramel golden brown… it's raw-raw-raw-charcoal and the rapid transition seems to be part of the process with the laser. Perhaps a coloured marshmallow would be less reflective and easier to start.
Seasons Ablatings,
-JohnJohn