I'm using a ruida controller and the dip switch setting I'm not sure of
Are you trying to setup an Ortur rotary on a Ruida controller based laser?
You need steps/rotation?
You probably should not be changing the hardware switches…
Yes that's what I'm trying to figure out
Do you have a compatible motor on the Ortur…? I don't know what's on them…
Read the motor driver switches to see what the steps/rotation are set…
Cross reference them to the placard on the motor driver board…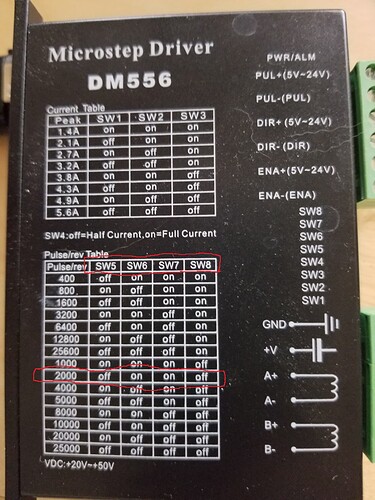 If it's a Chuck type, you can use this value as steps/rotation…
If it's a wheel type, you need to apply the gear ratio to the steps/rotation.
Mine is 2000 steps/rotation, the ratio is 2.5:1… the motor turns 2.5 times for the 'wheel' to turn one rotation.
2000 x 2.5 = 5000 steps/rotation for the rotary… the drive wheel is 62mm in diameter.
Make sense?
I don't know motor size but I'll check and get back to you
Data-Sheet-Stepper-Motor-Support.pdf.txt (839.0 KB)