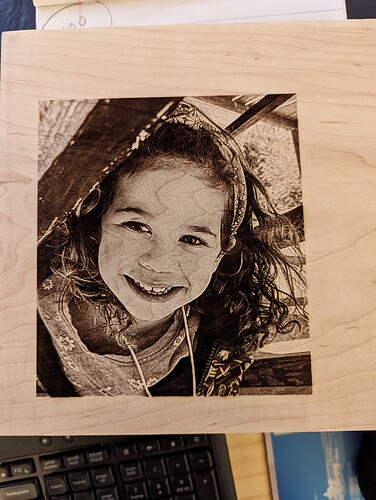 Good day!
I am pleased with the results of this engrave however, something that someone who is a photo engrave expert said to me, is still perplexing me and I can't find any topic relating to this in Lightburn or on google so hoping I get some helpful answers here.
This expert engraver said, "A picture that is perfected will feel smooth to the touch." This photo except for the hair and the other very dark areas does feel smooth. So my questions are, "Is smoothness on the entire photo an indication of a good quality burn?" If so, what would you recommend I adjust? Here are my current settings:
Jarvis
Line Interval: .079
DPI: 321.50
Contrast: 24
Brightness: -24
Gamma: .8
Enhanced Radius: 20
Enhanced Amount: 200
Speed: mm/mn 1143
Power: 20
Thanks for your help!