Hi Guys,
I'm installing a Piburn 2.0 on an Endurance Custom Diode Laser.
Looks like I got some issue with the Origin settings.
Here is the way I installed the Piburn on my 450x750mm device.
In the "Rotary Setup" Menu, I have put those values :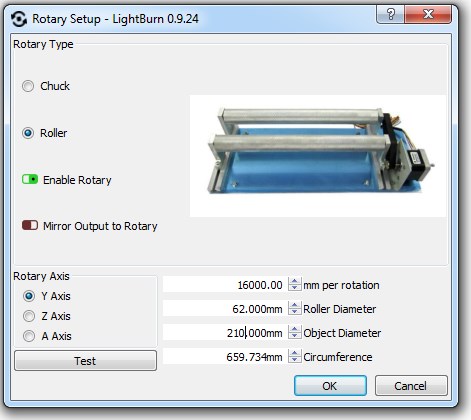 At the first start, the LaserHead was homing good on X, and I had to home manualy on Y.
It looks good.
I try to move 1cm on X ( starting from origin) , the laserhead starts jackhammering.
But I have find out that in a particular area , it was working fine .
This green zone in lightburn.
.
As you can see , I can move the head on the 750mm of the Y axis, and move 21cm on the X axis.
But I can do that starting 2cm right of the X edge origin.
I thought that was like a margin.
In Piburn documentation it says : "Disregard "Object Diameter" and "Circumference" values, they do not affect anything". So I tought that can put 450mm, to comply with my 450x750 device.
When I have changed the settings , and tried to move at the origin of the greenzone, it jackhammered.
So I reboot (device + lightburn).
It still jackhammered,
I came back to 210 mm in the 3rd parameter and then noticed that the X origin begins 4cm more on the right (meaning 6cm from the real origin).
I still have 21cm of width where every move are working fine.
X origin is shifting.
After several restarts, the X Origin is now 440cm far from the real one .
Y got no issue.
So what do you think ?
Where i'm wrong ?
regards