My last issue ended up being nothing more than a machine setting, and nothing to do with LB, but I'm going to go ahead and call this a LB issue since RDworks is unable to reproduce it.
I am getting very confused and frustrated. For some reason, I can't get a rotary engraving from LB to come out with the right Y axis scale. I am using the same measure, calculate, set workflow I have been using to do rotary engravings since I started doing them last month. Everything was working fine, and now it's just stopped.


I use this GSheet calculator and I copy/paste the calculated settings into my Ruida controller, and it has always worked just fine before. But now, I can only get the correct scale on a "line" operation, and not on a "fill" operation. The fill engravings keep coming out squished.
To verify that it is LB, I calculated and set the controller settings, and then I ran the exact same 10x10mm square once in LB, and then again in RDworks with the exact same settings. 100% power, 50mm/sec, 0.1mm interval. The RDworks square came out 10x10, but the LB came out closer to 10x7.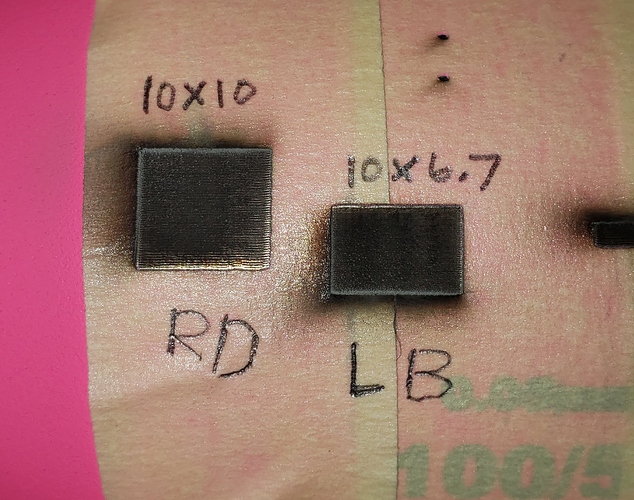 Again, maybe this is just some setting that I messed up, but I have already ruined one customer order because of it.