Hi folks,
I've looked quite a bit in the documentation and a few YouTube videos but I can't seem to find the answer I'm looking for.
I have 10 saved positions using absolute coordinates and I'm trying to move 10 objects to the center of each saved position. My current work flow is to move the laser to each saved position, select the object I want centered on it and click 'Move to Laser Position'. It's definitely doable right now but let's say I have 100 wood circles I'm trying to engrave an image on to 100 different saved positions; it will take a long time.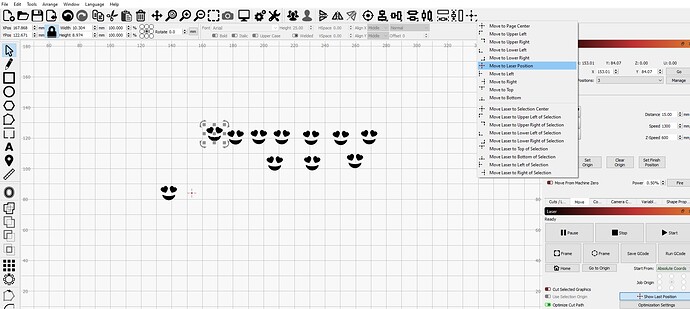 Is there a way to distribute 100 objects to the center (or any) position of the previously saved positions?
To be clear, I'm not engraving 100 things evenly spaced on a big piece of wood. I'm placing 100 ~10mm wood circles in the work area and want the images I'm engraving to correspond to the saved positions.
Any help or workarounds are appreciated!