Hey all,
Please bear with me, we literally JUST got our OMTech 60w this week and I got it all set up yesterday.
The OMTech was a big step up for us, but after 3 years using Glowforge we were ready for an upgrade.
I connected Lightburn and did a mostly successful cut, then got bold and tried engraving a piece of mesquite with a simple text.
Well, it printed a double image. I did 1 pass, low resolution, slow speed at 70% power.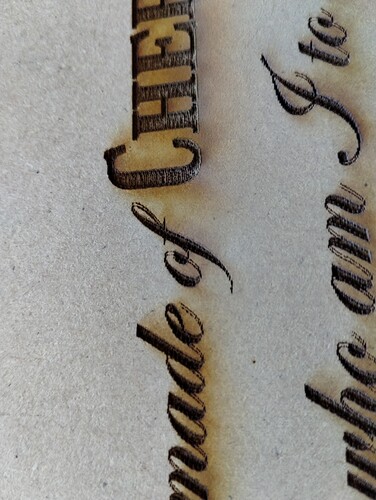 I immediately dug into support forums and the most common issue was that the mirrors may have been knocked out of alignment in transportation. So I followed the steps to realign them, and I feel good about their current alignment.
But I'm still getting a double image every time I engrave. I checked the belts and pulleys and they seem tight but I don't know what "right" looks like. I checked the machine internals and everything seems in order as far as the power modules and boards are concerned. So, I think it must either be a belt thing or a Lightburn thing. I watched all of the LB intro videos, which are great, but still can't find a solution. Please help!