Getting acquainted with our new OMTech 60w (AF2028-60) and wanted to see if someone could check my expectations on settings:
Tested out a design on some scrap alder, at 150mm/s and 20% max power (bidirectional) with a .085 line interval I believe. At this initial setting (middle design) it was too dark, so I thought I'd try higher speeds at the same power to compare. At 200mm/s you get a subtle but visible duplication of the line work. At 400mm/s it's clearly burning a duplicate. Looking around this forum I'm thinking maybe it's the speed causing the issue shown here: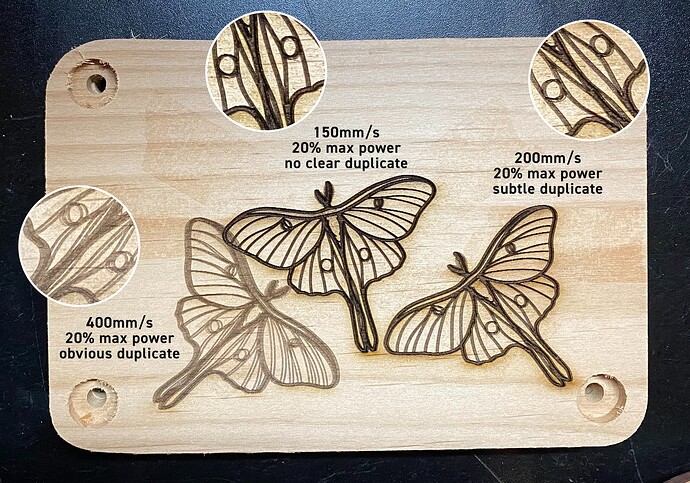 Is 400mm/s unreasonable to run at for this type of burn?
Not sure what range to expect for wood engraving with the CO2 laser. At 150 mm/s and 20% that doesn't leave me a ton of room to power down for a lighter engraving, looking to increase that window with a wider range of speed/power settings.
Note: This is not the only design where I ran into this issue. Can provide additional images if necessary, just wanted to note it's not unique to this test.
Experience Level: Hobby/Novice (Formerly used a CNC + JTech 7w diode laser + Lightburn)
Laser: OMTech 60w (AF2028-60) with Ruida Controller
Laptop: MacBook Pro running Catalina I believe (Due for an upgrade, I know)
Software: Lightburn, 1.3.01
Material: Alder Hardwood, Unfinished
Artwork: SVG File set to Fill
Thank you!