Hello all,
I am glad to introduce myself in this forum, thank you for the opportunity. My name is Jaime and I have a Neje Master 2/2S Plus 30W machine.
I'm new with Lightburn (1.0.06) and I don't really know if the problem I'm facing is related to the software, hardware, communications or other reasons. The machine is connected by USB (1,8 meters).
Yesterday, I tried to make an engraving on a wood board and the result was surprising. As you can see in the photo, the engraving shifted at least 3 times.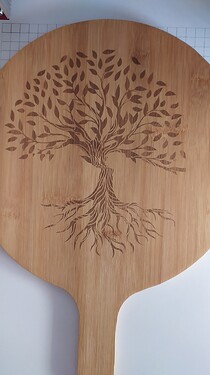 I have attached the machine settings and the project in case it helps.
Settings 18-12-2021.lbset (5.4 KB)
arbol.lbrn2 (318.4 KB)
I would like to mention that, when I checked the finished engraving, the software was closed (not minimized). When I opened it again, it said that a project backup was available. I don't really know when and why it was closed and if it could be related since the engraving is completed but shifted.
I have been searching for similar issues in the forum, but I couldn't find anything similar.
Do you have any ideas?
Thank you in advance.
Jaime.