I am beginning a new thread on the jigsaw puzzles since I am discovering more things to mess up the works.
I soaked the stainless steel mesh/screens in Simple Green over night. Cleaned them with one caveat, they are shiny now and reflect the laser beam onto whichever side of the material is next to it. Of course that makes for some interesting little burn marks.
I can assure any of you wishing to cut puzzles with a laser, there are many things that need to be exact. The substrate you are cutting must be absolutely flat on whatever surface you have it laying on in your laser. I am using 3mm/1/8" ply from a couple sources with much the same problems. Mainly, wavy plywood and I don't care who makes it or what it is made of. My shop is a wood shop and is hanging around 30 to 40 percent humidity. Wherever you store the material there is often going to be at least one side exposed to your shop atmosphere. Photo below is of a temporary clamp setup I am going to try before I make a permanent clamping press from two inch hard maple IF the clamp in the photo gives me any kind of improvement.
Also tried 1/8" MDF which looks promising since it doesn't twist. I have an order of same coming next week.
Doesn't matter what type of material used. When you glue a photograph to one side it is going to make the other side draw into a convex shape making it tough to keep the other side flat. Dampening with water seems to be the best way to soften the ply enough to bend it straight in the clamp. Leave it in the clamp too long and it will mould if you get the ply too wet. Steamer works but does take longer to get the ply soft enough.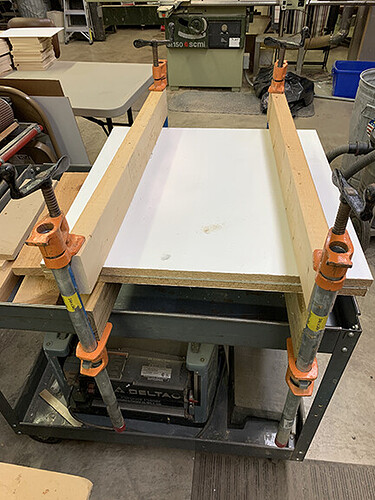 I am presently cutting with my Omtech 60W using Speed = 12mm/sec, Power = Max & Min - 55%, one pass 17mA.
Am going to run some tests to see if lower power will cut through the entire thickness well and maybe help or eliminate the damage to the photo/down side.