Hi,
probably there is a very simple solution for my problem, I just don't know it yet

I use an Ortur Laser Maser 15w and have the latest firmware and Lightburn version installed. So far everything has worked fine, but since about a week I am having distortions in the lines. I could make the problem visible with two squares rotated by 45 degrees: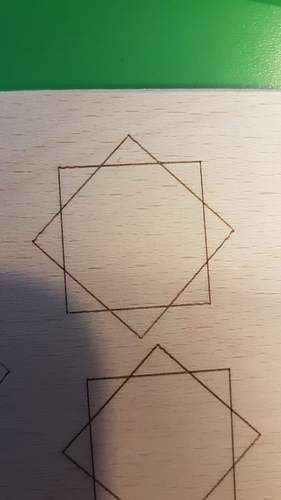 Always after a change of direction there are two "peaks" in the opposite direction. It is especially bad with small letters, these are not really visible.
At 100mm/sec, 80mm/sec or 60mm/sec (the upper one in the image) the problem occurs. Only if I engrave much slower (less than 30mm/sec, lower one in the image) it gets better.
Thankful for any help.
Best
Stefan