@Rick I was able to see a portion of Lightburn 101. PLEASE put these presentations on YouTube!!! I can't pause live stream to go get a coffee, or repeat interesting sections.
Ah, thank you and I understand. These are live streams hosted on YouTube currently. I can view from this page or directly on YouTube using my Firefox browser, and can pause / rewind in my testing. How are you viewing?
We do intend to make all sessions available after the entire event has concluded. We will announce the details once available.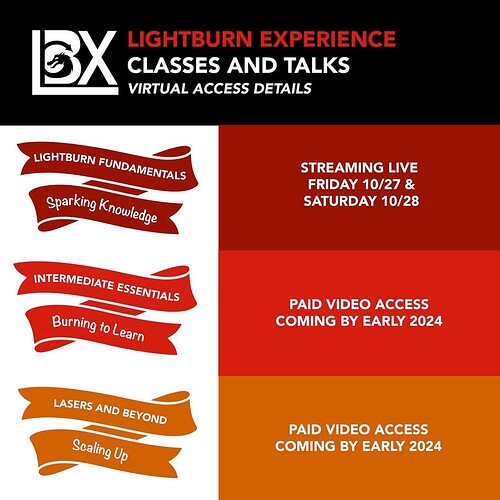 Chrome. It shows LIVE , and in the past live streams blocked me from any rewind.
Will these be paid or subscription when available? I watched part of the Diode Basics one, but he took to long to get to any useful information, so I went back to checking postings.
For paid attendees, they will be made available for 1 year, I believe. We want folks to be able to benefit from these presentations, so for those that did not attend, there will be a fee, but the details have yet to be made available.