I have an apolllo 600 laser cutter with an RF laser dating from c. 2012, sold by cadcam technology / Gsuk in the uk, which I know they assembled from stock parts.
It is working - currently running APS-ethos. It's been in storage for some years - and they say it is obsolete and completely unsupported. In anticipation of a major (computer) failure - I'm trying to work out what other Software would drive it (Eg lightburn!!) that is supported.
The controller inside it is a cream box, with "udisk" on it, and a silver sticker with ROLC320-A (EC), and S/N : RD 4000220 on it. Googling seems to imply this could be a ruida controller -(as I found mention of one with a similar but not identical number RDLC320-A but can't find anything out about it.
The laser cutter has a Lilliput 7 inch (usb) touch screen mounted on it, which is driven by the computer as its interface.
Aps-ethos requires a dongle to work (which I have) but if the dongle dies -
The software will become scrap.
Does anyone know is this is a standard controller and could point me to a manual or something to get my teeth into ?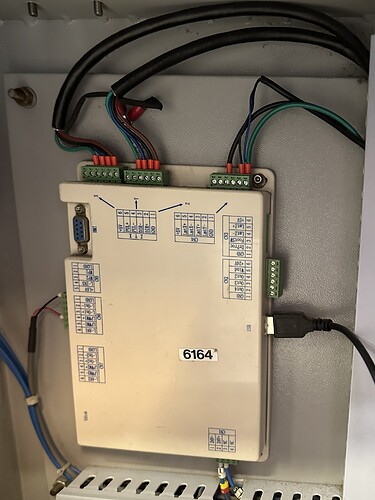 On the PC the drivers seem to work via some software called "Apollo" which drives the 7 inch screen as a second screen from the PC displaying simple jog buttons, and "load pattern" and go buttons …
Presumably I'd have to attach some kind of screen / interface if I migrate to other controlling software ?
Anyone else tried to "upgrade" one of these ?