Newbie here, can't get files to upload. what am I not doing?
Are you trying to work with DXF or SVG files?
If so, you need to have anew [blank] document, and then do IMPORT.
I've tried SVG DXF PNG JPEG can't seem to make ant progress.
I have watched so many you tube videos my head is spinning.
Did you try File>IMPORT?
It is also possible, especially if you are trying to open or import a file that it may be small and off the work space. Zoom out a lot to see if there really is something there.
I did try that, thank you! I have been a cnc operator for years but something about lightburn I just don't understand. I know it's operator error.
after re-reading my message it looks like I was being sarcastic. I really wasn't. I truly thank you for responding to my question. Just trying to figure out what I am doing wrong.
Try this… Do the Import, then CRRL-A, then click on the Preview icon (little TV) at the top. If something appears in Preview, it was Imported.
I loaded a file while helping someone and Zoomed out a BUNCH to see it. Noddink! Then I noticed the X-pos was 6000+mm (like in the image). Who has a machine with a 20' X axis? You will learn Preview will get used a lot.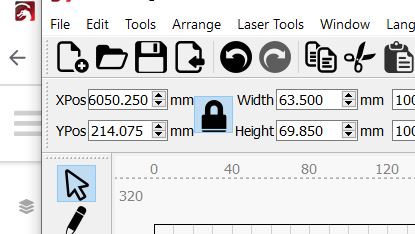 Once imported or opened…
Click on the Zoom to selection icon
in the tool bar…
---
This is a tiny bitmap file used to figure out dot size, you must remove the .txt extension, load it and use Zoom to selection to find it…
dotSize.bmp.txt (3.0 KB)
I'd suggest you just load it as a bmp file… They are handy to keep around…
Good luck
That is it? After doing all that, I thought there might be something telling me why…
There's no magic here… I was relating to using the software and ensuring what you think you have loaded, is what's loaded.
Did you try it?
I got t loaded, but lost the instruction manual. Tiny little thing for sure. If you are asking if I tried to burn it, no. I am in NY but the laser is still in FL. Will try when I get back.
Even worse, I caught Covid from the airplane ride and now my family wants nothing to do with me!
This topic was automatically closed 30 days after the last reply. New replies are no longer allowed.