I have an Ortur Laser Master 2 (with 20W laser) and I've been engraving leather for a few months. However, the other day, the prints did not come out as neat. See photos below.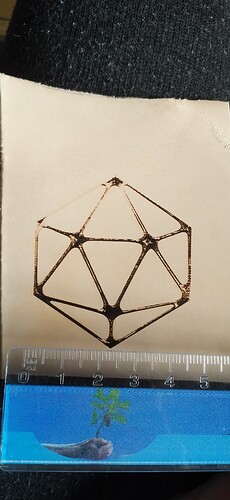 I thought it could be a difference in the leather, but I've printed in a few different pieces of vegtan and never had an issue. Now I tried in different pieces as well and the problem is consistent.
Not only is the design not engraved in some parts, but also the parts that did burn, didn't burn as deep as they used to.
I did not change any configuration between previous successfull prints and these ones.
To troubleshoot, I unscrewed the lense and cleaned it up with a q-tip. It wasn't cracked. Just had a small dark dot and a visible translucent stripe that got wiped out with the q-tip. Looks pristine now.
I also removed the preferences (just in case I messed something up).
I did update LightBurn recently, but I'm not sure if it was right before this.
I can't say for sure it's the software, but I'm not sure what it is right now or what else to check. I have not used the laser enough to be wear and tear.
Is it possible to downgrade LightBurn to see if a previous version did not have this problem?
By the way, I'm printing at 1000mm/min and 20% max power.
Do you have any suggestions?
Thanks in advance.
EDIT: I reverted to 0.9.24 and the result was even worse. Do I have a problem with the laser?