Hi
I have just bought this file, and brought it into lightburn. But I dont understand fully what Im seeing, and How to get it right? Can anyone help me understand why im seeing and what Im missing in order to make it engrave/score and cut right? I have not bought a file before, so thought I would just import it, and thats it…clearly not the case lol
I have attached a photo of that the finished product should look like. It is two layers, the back piece and then the top piece.
Ive added a couple of screenshots from my lightburn showing what is happening. I can see the pink lines on the preview are cutting/scoring? the names are also doing the same, but if I change that to fill so it engraves as opposed to scoring as Im assuming its doing, that doesn't work.
I cant seem to select the actual "wings to cut etc. Im sure it will be something super simple that I am missing - brand new to lasers, dont even have my laser yet, should eb coming in the next few weeks - but playing in lightburn to practice learn
any help would be greatly appreciated - many thanks ( I've messaged the seller of the file, but not heard back yet )
thanks so much
Terry
here's the file
Here is a photo of what it should look like when complete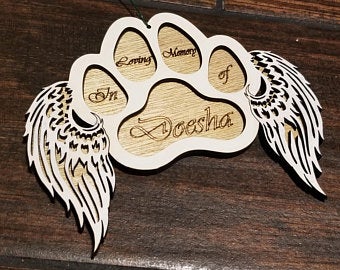 here is a screenshot from my lightburn.
and the preview