I'm trying to cut out some printed designs, and it's pointing out that my laser is WAY off of where it thinks it is.
What I'm after:
Print on a sheet of 8.5 x 11 label paper.
Stick the label down to 1/8" plywood.
Get the plywood positioned so that the laser should be able to trace all the lines on the print, cutting them out.
Hit go.
But the laser is going ~3-4% farther than it thinks it's going: It starts out cutting the top-left pieces out and tracing the outlines. By the time it's on the bottom right corner of the page, it's about a full centimeter off. It's missing the trace lines completely.
View of the full printed page: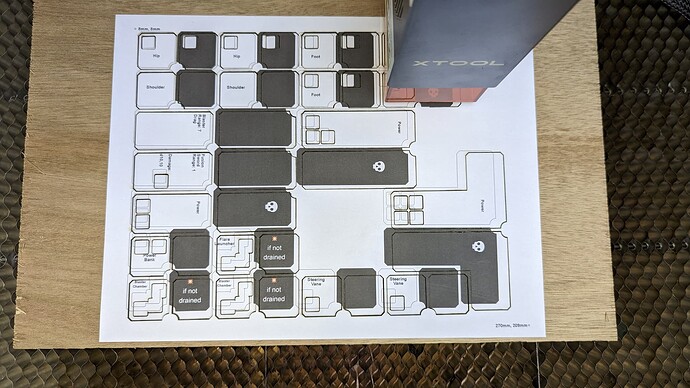 Zoomed in detail view of a piece on the far right, near bottom:

One of the cut-out pieces at the bottom right of the page. Note how the arc at the bottom right corner isn't lining up with the trace-line up-left of it, and the four cut-outs at the bottom-left don't line up with their trace lines, either.
I've pulled out a ruler and confirmed: The ink print is accurate: It wasn't scaled down. It's the laser that's overshooting.
Anyone familiar with this issue?
Know a way to correct for this, either in hardware or software?