Please see the two images here.
The one without my finger in it shows a crop in on a burn that contains 6 rows of 10 circles, burned with the default optimization settings. The circles are all perfectly round and perfectly spaced each time I burn the test pattern. But If I burn the same pattern twice without moving anything at all…I hit START, let it finish, then hit START again…and you can see that there is about 1mm of y axis position difference on every circle, while the X axis remains constant and the circles themselves remain perfectly round and perfectly spaces. Just for some reason the entire Y Axis start position has changed even though I have not made any changes to the laser or the settings in Lightburn.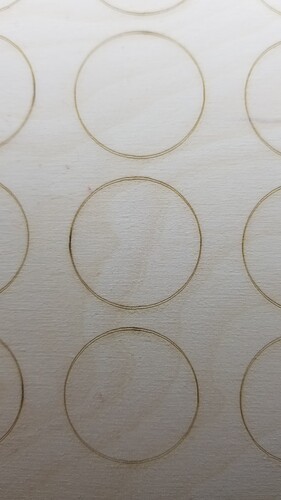 In the second image with my finger present, I did the exact same thing…but this time I had HIDE BACKLASH enabled in the optimization settings just to see if it would help at all. But as you can see, once again the circles themselves are nice and round and the spacing between the circles is consistent and correct according to the array settings…but when I hit START the second time, everything was shifted on the Y Axis by about 1mm.
If I let it finish and hit START again a third time, it will be at a different Y Axis start position…close to the other two, but not quite accurate.
I've checked my belts and they definitely seem tight enough. No noticeable slop and good tension all the way across the length of the belt. I've had little 'hobby' diode lasers before and they were oddly more reliable than this very expensive CO2 100w with Ruida controller.
Anyone have any idea how to adjust this? Or am I just stuck with a laser that is not capable of tracing the same line twice without a Y Axis offset?