Hey there! It's my first post here. I had a K40 machine in the past years, now I finally managed to bring home a brand new chinese 6090 machine, equipped with a Reci W4 tube, Ruida 6445G and finally an adjustable Z axis with autofocus. I successfully set up my machine in LightBurn, did some cuts and some engraves in last days… wood (plywood, mdf) is fine, but mirror acrylic is giving me headaches.
What are your best pratices to obtain clean and clear engraves on it?
I am engraving it on back, matte side (not with mirror facing up, of course). I am leaving its plastic peel on on reflective side.
When I cut, I get this "halo" in some parts: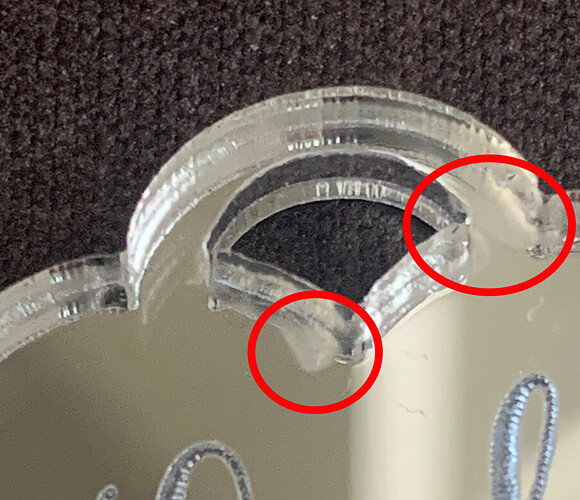 If I put paper masking tape on the up side too before cut, I completely remove this halo, but gets more difficult to engrave my tags.
About engrave, I get lines in it. Did some trial and error with different speed, power, line interval, but I can't obtain a very clean and even fill.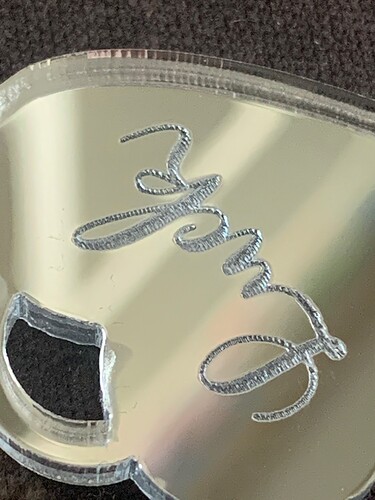 Both cut and engrave are performed with air assist (ACO-008, should be rated around 100-120L/Min) on.
(these are tags around 25x25 mm I am cutting for my girlfriends hobbies).
Thank you for reading