Awesome result!
What settings did you use?
Seems like something I want to try as well… I can put my logo on my cutting stone this way!
I had a horizontal line show up where I paused the job for a moment that you can see but otherwise turned out nice. 300DPI, 100mm/s, 18% power, 60 watt tube, either Jarvis or Stucki (can't remember), .7 gamma, 4 radius, 150 amount, 4 contrast. I tried it at 254 DPI but def had some small gap between the scan lines so bumped it to 300.
Like the marble much better than granite. The granite to me looks splotchy and the dots come out more of a shiny silver than white. But I may just need to try upping the power on granite. Considering what I posted is only 3" wide I was pretty happy with the result.
Very nice job.
I love the dogs expression and his glance. That's a highly sellable image in my days of owning a portrait studio.
Sasquatch
Thanks. I used to do some photography myself. It was down to these two images. Both were just snapshots but thought they were good.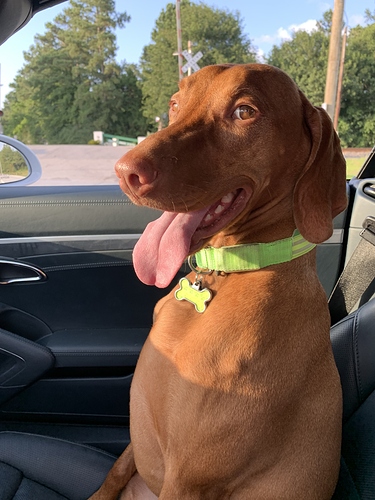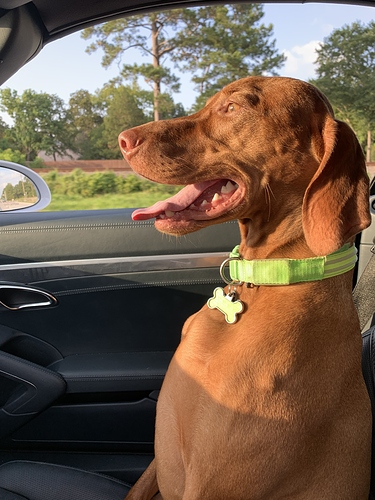 I agree the top is the best expression wise.
Here is a suggestion to get a better result in your engrave.
Two ways to even out the transitional shadows.
Use the burn in tool on the highlights in your graphic program PS or equivalent to balance out the tonality (the darks will be lighter. On a dark haired pet darker is better then "whitish" (my first suggestion)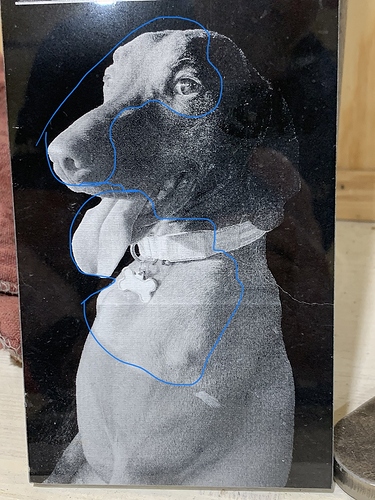 OR
Use the dodge tool in your graphic program PS or equivalent to lighten the shadows in your image to reduce the contrast in the negative printing on a black surface . After you lighten the shadows then darken the overall image .
From my "selling photography days " clients wanted the look in the green for the overall image.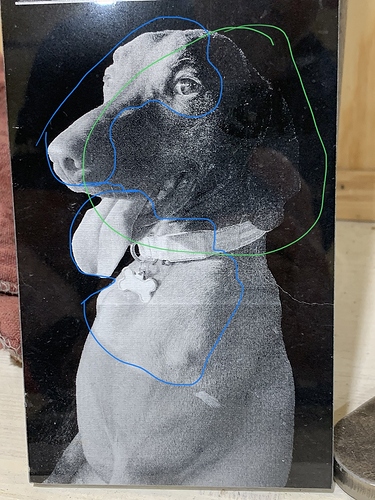 Give that a try and I am certain you will like the outcome
These are just my preferences for the laser reproduction… take them or leave them they are not intended to say that your way is nit OK.
The way you shot the color image is PERFECT because the sun rays create an atmosphere which is balanced out by the outdoor scene of a pup and his owner going out for a drive. When converted to BW I don't feel the warmth of the sun complimented by the warmth of the pups warm fur coat and outdoor scene.
Cheers
Sasquatch
2006 California Studio Photographer of the Year
Appreciate your input. I had actually done much of what you suggested with both dodging and burning. I just forgot to hit save before I brought into LB.
I would be very curious to see the outcome of the second image being engraved due to its perfectly light face.
I think this would make a beautifully stunning oval cameo engrave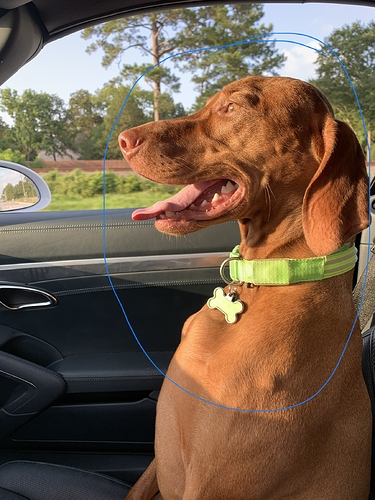 Sasquatch
Funny, I'm actually working on eliminating the background on that one.
Is that a your pup? It a gorgeous looking Vizsla.
It is. Thank you. And you're one of the few that gets the breed right.
One more suggestion since you are working on the second image.
"Burn in" (I don't need to explain this to another photographer
) the name tag so that you can see the name on the tag.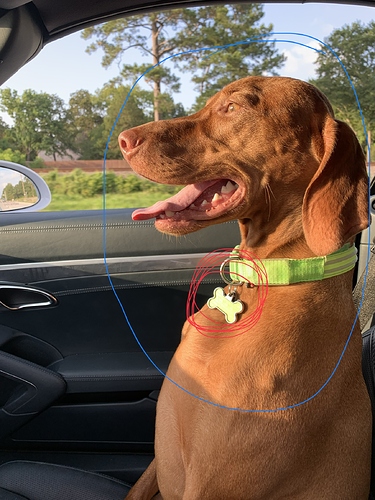 Sas
LOL, I tried that on the first one too but it's just too faint to work. I had actually just superimposed text on it but again had forgot to save it.
One things for sure most photographers think alike
And the completed file from Photoshop. Put his name on the tag. Got rid of the shadow line on his lower chest. Gave his eye some definition for the laser. Also dodged his back line pretty heavily so that it almost has a faint glow. Again for the laser. Did the same to the back upper part of his ear. The main dark part of his ear is just going to have to stay dark. Can't dodge to bring out detail that just isn't there.
Eye before: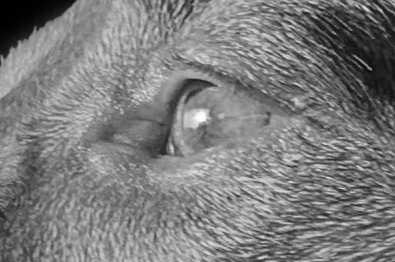 Eye after: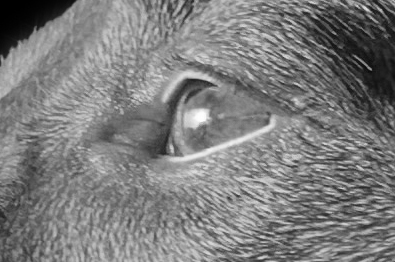 Perfect! The eye
will pop. No pun intended.
Excellent processing. Don't forget the unsharp mask
(pun intended)
That will prepare your file for the engrave. Also Lightburn has awesome
sharpening tools in post.
Very curious on your final engrave that image is stunning!
Sas
Here's the first test engrave on a small piece of marble. Coin in photo for size reference. I think that's pretty good detail for an engraving that small. If you draw a horizontal line under his nose, everything from there up is actually engraved on top of a previous engraving. This was just scrap material. But I think all the settings are good.
Have another larger piece of scrap marble that's not nearly as nice and black as this. But it's bigger. Gonna try it.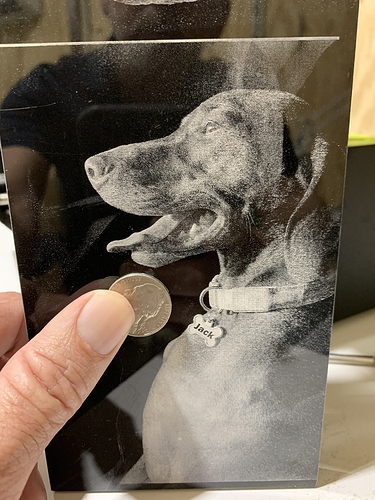 And on a piece of 12x12 marble tile…
@travisr100 that's some great work.
What were your settings. Watt Power speed…
Cheers
Sasquatch
Smartest dogs on the planet. I've known a few. Top mutts!
Thanks. Same as before, 300DPI, 100mm/s, 18% power, 60 watt tube, either Jarvis or Stucki (can't remember), .7 gamma, 4 radius, 150 amount.