I was having a horrible time paint filling my engravings, the paint would wick though the wood fibers and ruin the work. I tried all the usual methods of sealing the wood first with shellac. And that helped but did not always stop all the bleeding. Plus it was a pain having to apply multiple coats of shellac before engraving.
I saw an ad for Laser Dark while looking for a solution. But the Laser Dark is relatively expensive at about $18 per can. So being cheap I kept looking for an alternative that would work the same for less.
After a bit of research I discovered Marsh Stencil Ink ($4.05 per can). My order arrived today and I just did a quick test.
This stuff works great for making your lettering on wood jet black with no bleeding and no prep work! . Just apply your masking to the wood, engrave then spray with the Marsh, and then set it with a clear sealer, let it dry and peel off the mask. For the first time my engravings are dark and perfect with no paint bleeding no prep is required on the wood before engraving.
Amazon does require you to purchase 3 cans, but in my case that is a benefit. I will be using this on all my engravings from now on.
https://www.amazon.com/gp/product/B00DLD7JO8/ref=ppx_yo_dt_b_asin_title_o00__o00_s00?ie=UTF8&psc=1
The version on the left, I made a few months ago just scanning the words onto maple. The version on the right I just did (again) and sprayed with Marsh (and a top coat of Rust-Oleum Satin Clear Enamel ) after it finished scanning.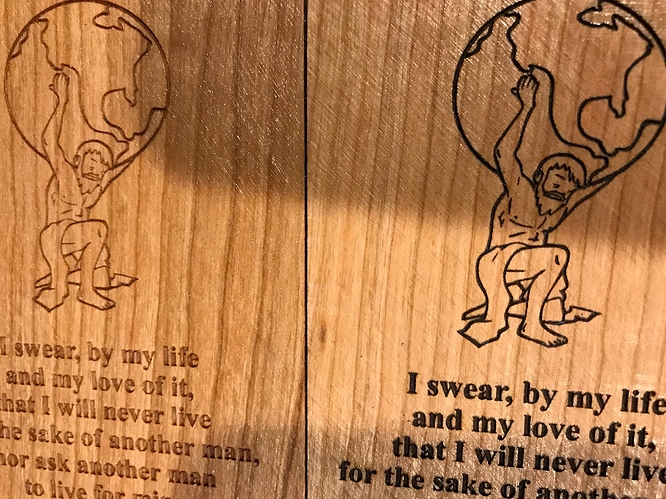 Close up of Marsh Stencil ink version: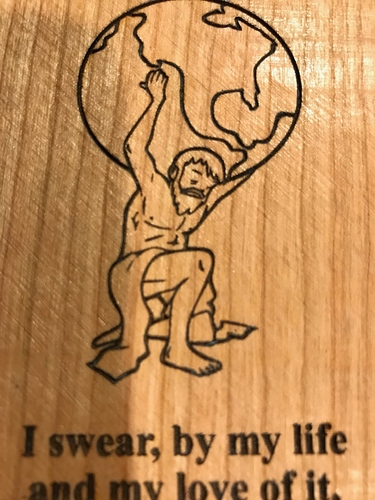 Close up of engraving with no fill: