Thanks to the contributions from @Hank (Glassware & coasters for a good cause) and from @richfaraone (Ortur YRR Rotary Setup Video Guide & PDF), I was able to get up and running fairly quickly on my first Glassware project. These glasses are to add to a set of glasses our daughter had custom made for our Summer home several years ago. The set did not include Wine Glasses so this was a great opportunity to try my hand at it.
It turns out to be a pretty good match to the original (perhaps even better than the original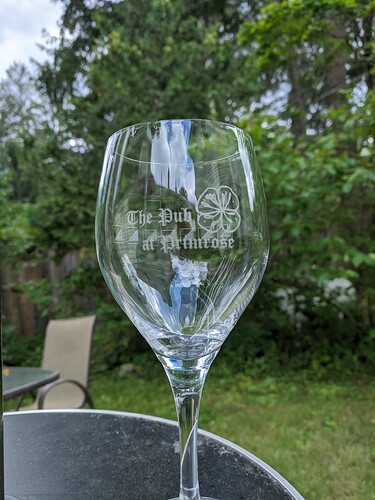 (ignore the test pattern on the back of the glass, I'm sure it's just a reflection of something
I used Black acrylic paint (couldn't find any Tempera in town) air brushed on, fill mode, 2.5% overscan, 0.100mm interval, speed 910mm/min, power 70%, NEJE Master 2S Plus with 30W diode, Ortur YRR Rotary. Here's the glass as it came off the 'press'…

Next up, waiting for the Tempera to arrive and making an adjustable jig to hang the YRR off the front of my work bench. This will allow a full range of sizes with the laser fixed to the top of the bench…
Thanks again, Hank & Rich!
UPDATED: Aug 24,2021: updated exposure speed from 1300 to 910 mm/min. This yielded a more uniform etching.