Kerf Question: I'm using 0.25mm kerf offset for my AF lenses. I need better accuracy than just "cutting on the lines" I don't understand why I'll have random vectors of a copied circular vector in an array (all the same) that cut differently. In my example, I have the top 1/3 of the 4 mm holes with a inward kerf,
the middle 1/3 cut on the line, and the bottom 1/3 with outward kerf.
Even the preview shows the output is not what is desired. When the material is actually cut, the random incorrect kerf correction cuts are also random on the material - not matching the mistakes in the preview. It does not matter if the file is transferred over Ethernet, USB, or direct from light burn to the laser CNC.
Top of the test material - Inward kerf errors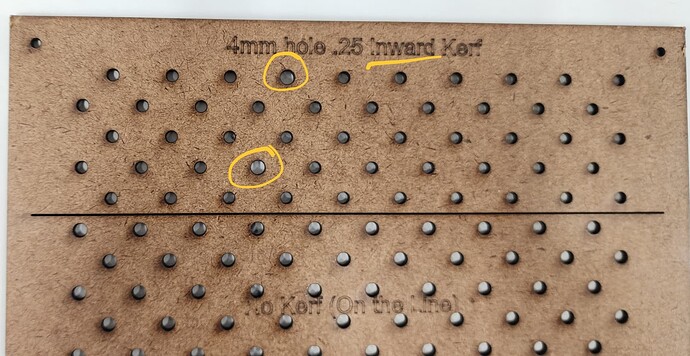 Bottom of the test material - Outward kerf errors
The middle which cuts on the line is always accurate.
Kerf Test #4.lbrn2 (104.1 KB)