Doesn't it fill up with condensate?
Yea, kind of the point, take the water away from the glass and table. It's all coated so waterproof. A good coaster should give the moisture some place to go other than the table.
Love the photos. Ive tried but always seem too dark or lack contrast even though i have watched plenty of videos. I use an 80w co2. What settings do you use?
For photographs I use a George Simon 2 watt laser with linear rails.
30 IPM 60% power 362 DPI
For tiles, you're better off with low wattage head.
(the focus point is much smaller)
This is our logo on a coaster made from a bourbon barrel stave. Can also hold your cigar if you are so inclined. Alison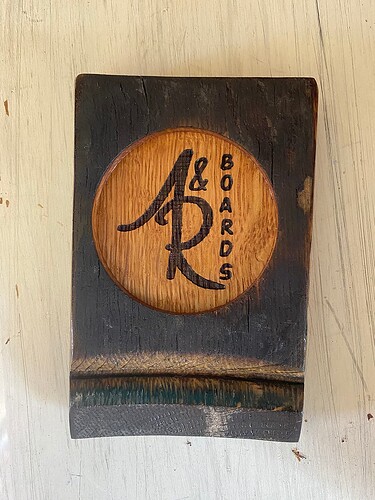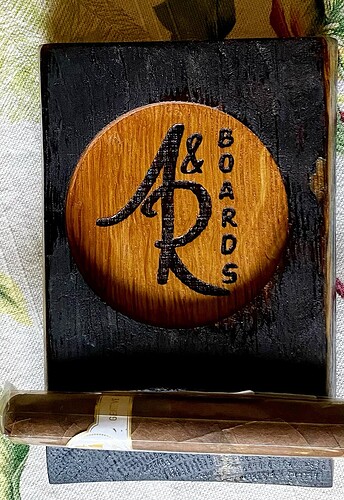 Interesting idea… how much smaller is it?
@tmorris9, follow that idea, I'm not anywhere you see that much condensation… mine just gets a bit wet at the base…
Did you use a waterproof sealant?
Yes, several coats of polyurethane
Wow, thanks for sharing your process. I feel like my wife would love to make these.
Great tip, thanks for sharing.
It doesn't matter how long it's been since I moved away from Pittsburgh, the Steelers fans always find me!
The dark came out so bold. Is this just an engraving or did you fill it back in?
Love love love! If you felt so gracious as to share your files, I bet these would be very popular around here.
Ha really needs to be in an Old English font and then it would be perfect, great job!
I feel like these would sell in homesense or stores like it as fast as they went on the shelf.
The bag clips made me giggle.
The Tiki design is something I purchased on Etsy (so can't share) it was a generic design and I turned into the coasters, made some modifications to make it work better.