I have an inexpensive Ortur 15W Laser Master (don't laugh at the name, I didn't name it) that runs on a Pi knockoff board (I've been told) that came with LaserGRBL and does pretty well for the sub $200 price tag all in all. My problems arise with grayscale prints.using LaserGRBL if I tweaked every image using countless test prints eating up material I found that the process of converting using their import too and setting speeds and power was too inconsistent for any kind of workflow.
So I decided to check out Lightburn which is pretty amazing all in all! I watched a few tutorial videos and dove in starting with vector images and solids etc, everything worked out great! So, let's see if I can make sense of grayscale settings via a couple of test images…
he first was a grayscale image created in photoshop that is a gradient band going form 255-0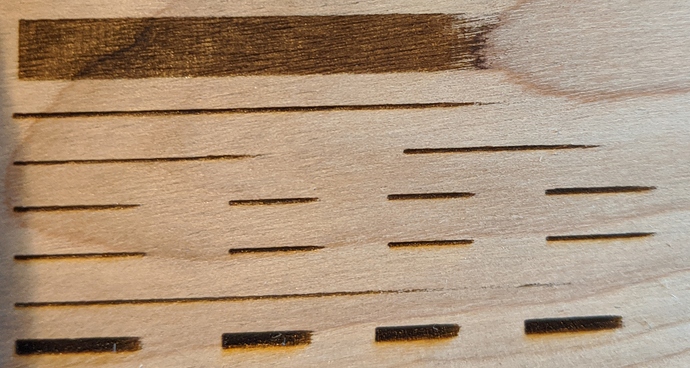 This band is 80mm wide (half the bed area), I would attempt a run and if it didn't look right I would adjust the speed, move the image up in LB and try again. After fiddling with this for a while I found a topic that I thought would help and created a Power Scale Test (going from 10% power on the left to 100% on the right) just to get a baseline of speed to start with. I know we are dealing with vector and grayscale here but the power percentage change should be visible.
Again, there should be 10 blocks here! I'll include my machine settings below, thank you in advance for your help!
$$
$0=20
$1=50
$2=0
$3=1
$4=0
$5=0
$6=0
$10=1
$11=0.050
$12=0.002
$13=0
$20=1
$21=1
$22=1
$23=7
$24=600.000
$25=3000.000
$26=100
$27=1.000
$30=1000
$31=0
$32=1
$33=350.000
$100=80.000
$101=80.000
$102=80.000
$110=60000.000
$111=60000.000
$112=60000.000
$120=2200.000
$121=1800.000
$122=2500.000
$130=160.000
$131=150.000
$132=1.000
ok