Hello there,
I am quite new to "big" engravers and I bought this one mainly for cutting.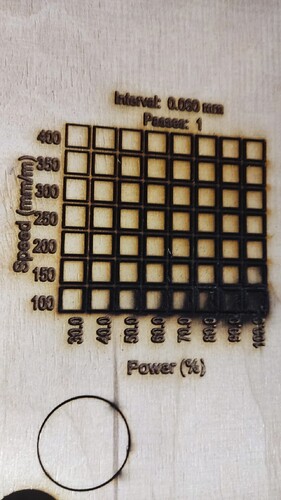 With the right macro after many tries I could cut through 4mm plywood at 200mm/m 100% and 2 passes, with burnt sides. It doesn't seem right compared to videos about the engraver when they had no problem going through 3mm at 450 100 1 with clean edges.
It looks like after autofocusing there is a small rectangle at the laser point.

So I removed the autofocus rod, manually adjusted the height until I had a point and tried again and it cut at first pass with no problem, but the metal underneath got more burnt than it should.
If I then reinstalled the rod, it would stop me before getting that spot.
Is the problem in the lenses or in the software(it was the same in both Lightburn and LaserGRBL)?
Thanks in advance