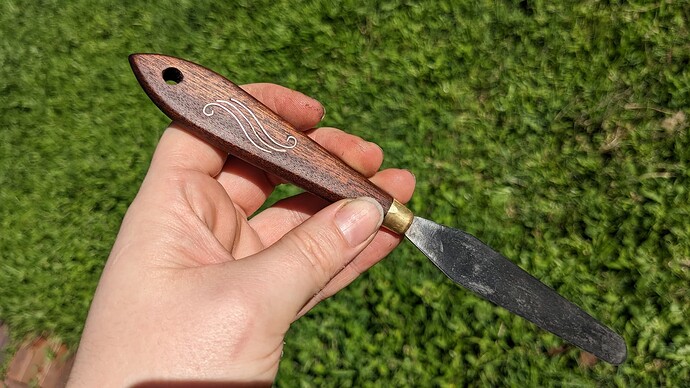 I just did a wee test with some scavenged resources to try out wire inlay and I'm pretty happy with how it came out!
I scored the channels into this handle using the laser. I was able to just use my beam thickness, I originally tried it with a bit of an offset but it was too loose.
I hammered some copper wire flat, and then hammered it into the channels.
Then sanded the wire down flush, and then sanded the whole handle smooth. I added some boiled linseed oil as I sanded the final grit (600), so it filled in any gaps in the wood grain, and brought it the wood's colour.
Then I waxed it with some soft wax made from 2 parts boiled linseed oil, 2 parts melted bees wax and 1 part eucalyptus oil (people usually use mineral spirits instead of the eucalyptus, I just prefer the smell of eucalyptus).
The wire thickness varied a lot, because it was hand hammered, but I have some proper flat wire heading my direction, and I'm keen to try more complex designs with that.
Overall this was a really easy little project, and I feel like it would be a really lovely way of labelling one's tools; instead of writing your name on it you do a little carved inlay.
It would also be an easy way to elevate a little wooden box from a craft store.