I'm trying to work through this tutorial to make a QR code for local wifi for visitors. I've run into 2 issues. The first is that, in the tutorial, the total time estimated to complete the project is about 5-6 minutes. So far my Shapeoko 3 with a JTech laser has been going for about 45 minutes and is only about 75-80% through doing the QR code. I set the speed to 3,000, but it seems like the Shapeoko won't go that fast. (I've done simple tests and it seems to reach peak speed under 1,000 - is the Shapeoko really that slow?)
The other issue is the result print. This is part of the QR code: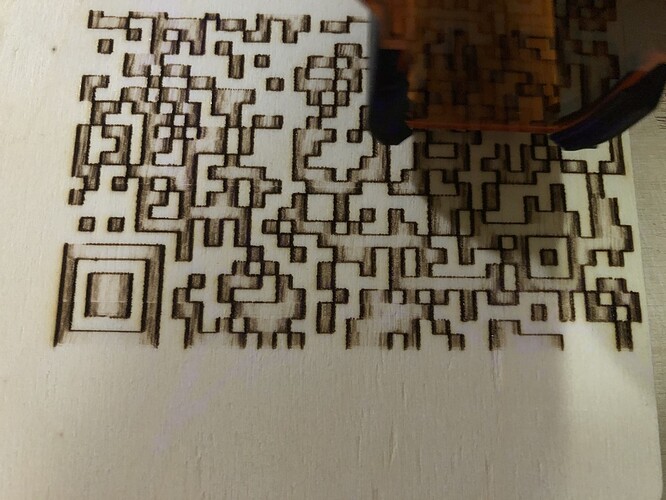 For reference, here's what it looks like in the preview:
(By the way, the estimate on the Preview was about 25 minutes for my entire pattern.)
It's outlining the dark spots in the QR code and not filling them in. I'm also wondering if the problem is it is only outlining them and the other markings are scorching, but that seems unlikely, since the scorched areas are only in where there should be black fill in the image.
So I have 2 issues, one is that my Shapeoko is extremely slow on this and the second is that, for some reason, the enclosed parts of the QR code image were not filling in. What do I need to do to fix these problems?
Also, in the TL;DR department, since this often comes up, I do not have my Shapeoko connected to any of the Macs by USB. I use a Raspberry Pi with a 7" touchscreen to control the Shapeoko. It's in the middle of the floor, so I can't run a USB cable, but I do have power lines and an ethernet line dropping down from the ceiling. (The run is too long for a USB to go above the ceiling.) I save my files from LightBurn and load them into UGS on the Pi and do the work that way. I was, when I first set up the laser and LightBurn, still using a Linux workstation down in the shop and did have a temporary USB cable (with a booster for the distance) connected from the computer to the Shapeoko. I tried a temporary USB cable for testing on my M1 Mac Mini, but LightBurn doesn't see that.
(About the only way I can connect LightBurn directly to my device long term would be if I could do it over ethernet.)