Hi
I just want to say I am pretty new to the whole laser cutting experience however lightburn has made things a bit more easy to understand. Not like the other softwares…
That being said I am currently facing a few problems.
I have a 100/100 cm laser engraving but as of now I just can't seem to get the workarea to match with the workspace of lightburn even though I did the set up at the beginning. Anything I load up work in lightburn to be framed or engraved in some cases, it causes the motor drivers to skews off to the left or top or bottom corner of the engraver thus in turn grinding my belts.( I hate that sound
) please help!!
I have a 15 watt laser diode I got of ebay with ttl module, I first powered it with its own power source and it burnt through 5mm thick cardboard at a distance of 7cm ( it was out of focus but still powerful), then later hooked it up to the engraver board but I can't even get it to cut it through, only kiss cut it even that I'd need two passes, full power and at a speed of 2(in/m).
The current firmware to my knowledge is
Grbl_v1.1h.201908.hex
Previously I was using these
Grbl_v1.1f.20170801.hex
Grbl_v0_9g_atmega328p_16mhz_115200.hex
however it started acting up not sure which one but whichever, it caused the laser to fire when it was uploaded.
Im currently running windows 10 Pro
Im running lightburn 0.9.11 version.
This is the controller board of the engraver.
2 Axis Stepper Motor Control Board Driver For DIY Laser Engraver Benbox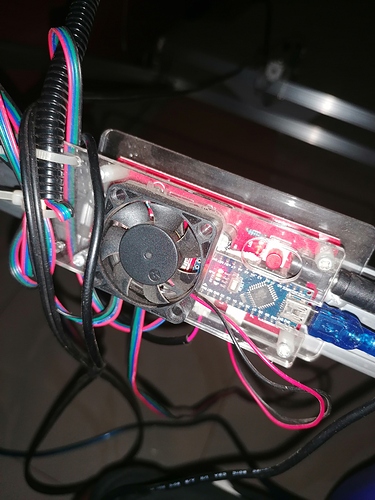 This is the laser module I'm currently using.
15W Laser Head Engraving Module TTL 450nm Blu-ray Wood Marking Cutting Tool.
Here are my console readings
$0=10 $1=255 $2=0 $3=0 $4=0 $5=0 $6=0 $10=1 $11=0.010 $12=0.002 $13=0 $20=0 $21=0 $22=0 $23=0 $24=25.000 $25=500.000 $26=250 $27=1.000 $30=1000 $31=0 $32=1 $100=250.000 $101=250.000 $102=250.000 $110=500.000 $111=500.000 $112=500.000 $120=10.000 $121=10.000 $122=10.000 $130=200.000 $131=200.000 $132=200.000 ok Please help thank you 🙏