Hi there, I've got a new Chinese laser cutter and I'm going crazy trying to get cuts to align properly. I've attached a test file and hoping someone could try cutting it to see if you get the same results.
Here's the history of my problem and what I've tried so far:
I discovered the problem cutting 6 identical puzzles. I copied and pasted the puzzle design to make copies inside Lightburn. 3 of them have places where the cuts don't start and end at the same place while 3 of them are good. There is a different cut order in each of these puzzles even though they are individually grouped so a complete puzzle is cut before moving to the next. (A little more on that later).
I've done extensive problem-solving using a different design with squares. I made this file so the head would change directions on every line segment in order to maximize errors. Of course I can cut this design perfectly if I cut all horizontal and then all vertical lines without breaking them, but the point is to get the cuts to align no matter what cut order. I figure if I can get this simple design to work then my other files will work.
Here's the file:
grid alignment test 2.lbrn2 (28.2 KB)
And here's a bunch of trials with their settings:
There are some wiggles that I found I can eliminate by reducing speed to about 20 mm/s. But the places where the cuts don't align are killing me.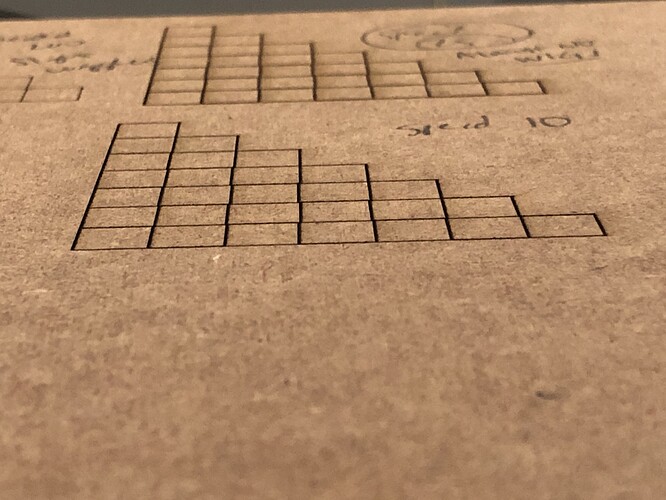 Changing idle speed, acceleration, rising edge (both on the Ruida 644XG and in the machine settings on LightBurn, both x and y) on and off, hide backlash on and off… nothing I've tried makes a difference. I have reduced acceleration down to 100 mm/s2 and cut at speed 10 mm/s so the laser head crawls slooooowly along, and the misalignment is exactly the same as if I have acceleration 1000 and speed 200.
The problem is 100% reproducible. The missed places are in the same places regardless of the settings and regardless of where on my laser bed the cut is made. I have checked the screws holding motors and belts and everything seems tight. I have examined the belt carefully for debris or damage to the teeth and it looks perfect.
If I change optimization settings to change the cut order, I get errors in different places. These are also reproducible within the same set of settings.
I have been in contact with the manufacturer, ZingCNCLaser, tried all of their suggestions as well. Today I got the response that if they make the file in CAD software and import to RDWorks, they get errors but not if they make it in RDWorks. Here's their picture: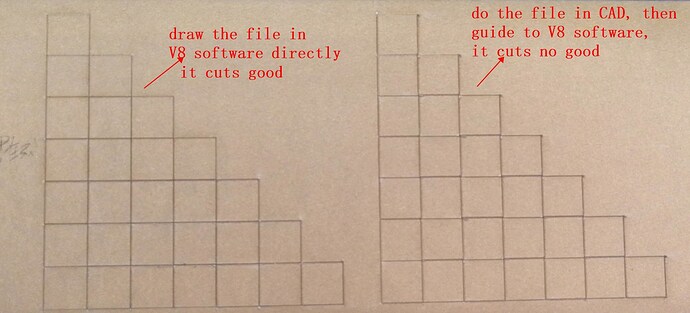 I don't use RDWorks of course, I use LightBurn. This file was made in LightBurn. My puzzle file was made in Sketchup and saved as a pdf, and it works just fine on both a GlowForge and an Epilog. It also seems strange to me that importing a file would make any difference, or that the cut order should make so big of a difference even at low speeds.
I'd really appreciate it if someone could try this file and point me in a useful direction. (A temporary fix is setting cut order on my multiple puzzle file so each is cut in the same order, something I haven't figured out but will ask about in a different post. That will solve the immediate problem but not the larger problem with misalignment!)
Thank you for any help or advice you can offer!