This is a follow-up to a discussion occurring in a separate topic around Ruida's Dot mode and how that might be used to get a different type of cutting effect. The question was if this technique could be used to attain a similar effect using diode lasers and g-code.
I've done an inital proof-of-concept demonstrating the necessary code and the mechanics involved in doing this. What's left is to test this with additional materials and settings to see if this provides any real world advantages.
I invite you to experiment with this and publish your findings to see if there's any real value in doing this.
Link to the original discussion on this:
I've created a g-code stream that is designed to cut a 10mm square using this technique. It is setup with "current position" and expecting to be aimed at the center of the material before starting the burn. Right now the way it works is it takes 0.05 mm steps between burning a single dot for 0.1 seconds. It does this all the way around the square.
Sample cut. Open hole at top, cutout at bottom: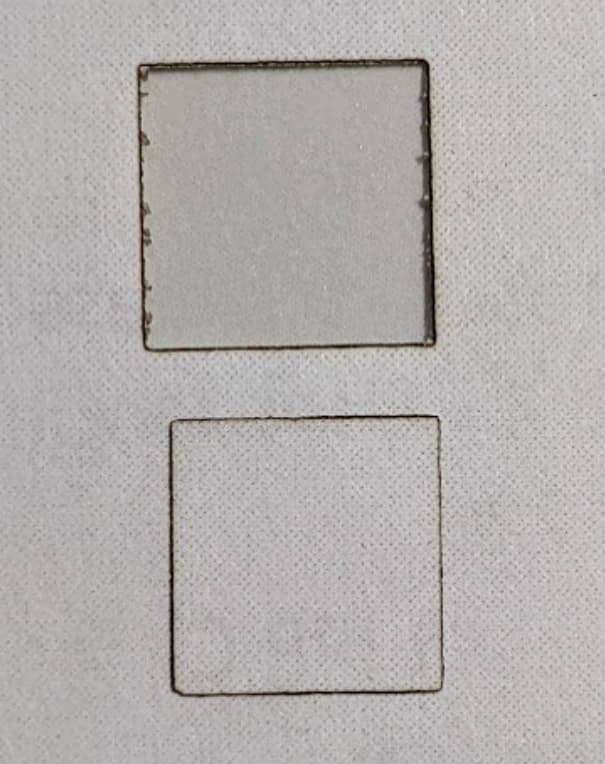 Sample code:
gcode dot poc square.txt (17.2 KB)
You can modify the code this way:
Change speed (F) and power (S) by modifying line 8:
M3 F100 S80
Change dwell time in seconds by modifying all occurrences of:
P0.1 with new time
example: G1 G4 P0.2
If you want to change motion increment it's probably just easiest to change all occurrences of .05 to the new increment size although this will change the overall square dimensions. Else change the step size and the number of occurrences accordingly.
Please take a look and share your findings if you try this out.