Hi colleagues,
I just received more powerfull laser from Ali 40/5W 404 page.
And I want to switch from lasergrbl to more advanced Lightburn, still on trial.
But unfortunately, there are gaps in the results lines.
Of course I checked the forum for help but even the most similar case doesn´t solve my problem.
Getting gaps at corners and/or whenever the laser changes directions
I set the $120 and $121 till 500, but no change. Attaching picture, upper 100% power 3mm/s, bellow 100% / 300mm/s.
Any ideas?
Many thanks
Pulmer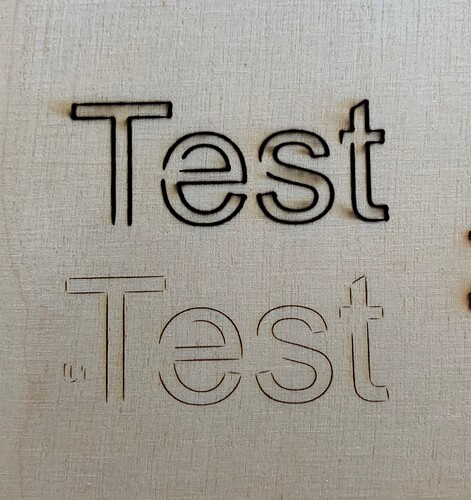 $$
$0=10
$1=25
$2=0
$3=0
$4=0
$5=0
$6=0
$10=1
$11=0.010
$12=0.002
$13=0
$20=0
$21=0
$22=0
$23=0
$24=25.000
$25=500.000
$26=250
$27=1.000
$30=1000
$31=0
$32=1
$100=403.226
$101=403.226
$102=250.000
$110=500.000
$111=500.000
$112=500.000
$120=400.000
$121=400.000
$122=10.000
$130=200.000
$131=200.000
$132=200.000
ok