Have a problem, that my origin "drifts" when I use lightburn.
So I have created a testfile "testpattern.lbrn2"
When I run the file from Lightburn I get a 3mm offset, which is visible if I run the file twice.
If I do a reset on the laser, the origin returns to the original place.
If I upload the file from lightburn to the Ruidacontroller, the same thing happens.
Then I tried to export the file as DXF, and import it to RDWorks.
Uploaded the file from RDWorks to the controller, and ran it twise as I did with the Lightburn file.
There is NO offset if the file that comes from RDWorks, but 3mm offset in the file coming from Lightburn.
Testfile and picture of the result is uploaded…
The picture shows the result of the file, after is has been run twice on top of each other
How can that happen ?
Regards, Kim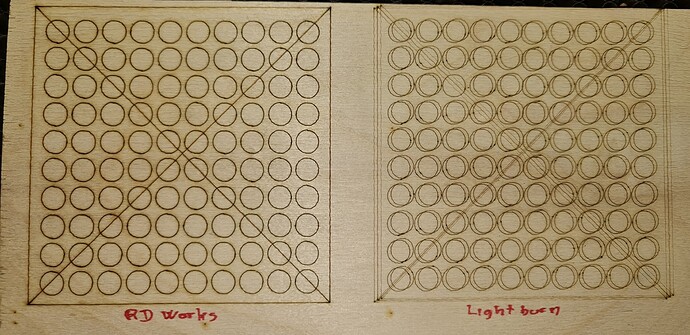 testpattern.lbrn2 (87.5 KB)