Yes the non Big Sur macOS version works with the camera (I didn't test anything else in it)
Update, the software did crash on me once, wich never happened before with the older versions.
Hi Oz,
I downloaded MacOS (Older)
Running Catalina and Mojave. Rudia 644XS
Worked on Mojave but did not work on Catalina.
Following, Same problem with Ruida 644xg. It will send and cut a file initially, but I when I got to calibrate the camera I get the machine may be busy error and subsequently it fails to send jobs to the cutter at all. OSX, High Sierra, USB. Problem happened after update, it was cutting last week.
The google drive link for Older Mac OS isn't working for me
It wouldn't download on Safari, it just hangs. I downloaded on Firefox on a windows machine, installed the update on the MacBook that runs my laser and things are working!
Odd, I am not having issues using Safari to complete this download, but glad to hear you have been successful using another browser.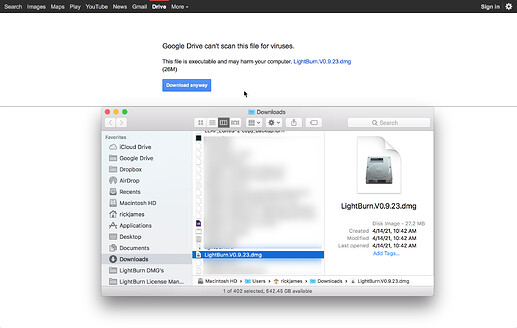 I have the 50w CO2 laser with the topwisdom controller. i tried both of the mac versions but nothing is coming up. still shows that my laser is disconnected. What is interesting is the asterick showing the connection is by the laser and I can move the laser by changing current position but anything else does not work and still says disconnected
I currently use a mac with the Catalina 10.15.7 operating system.
I downloaded the MacOS Big Sur 9.22 and everything works fine now but camera. How do I know what controller I have?
I spy "Boss Laser LS1416" listed under 'Machines' in your forum profile which would be a Ruida DSP controller.
Same problem here using Catalina 10.15.7 and 0.9.23. Sending the file via wifi.
Please don't use "Same problem here" - describe the problem, since multiple people on this thread have had different issues.
WIFI communication isn't recommended for Ruida controllers, and you haven't mentioned whether or not you have successfully sent files in the past with older versions, or if you've never been able to send a file, and you haven't mentioned what kind of controller you're actually using, and your profile says "MACOS" instead of a machine type.
k40 with awesome.tech grbl, actually had to downgrade back to 9.19 to get it to work.
when on 9.23 it connected to laser said ready, but the console said waiting for connection.
K40, Mini-Gerbil, Linux Mint 20.1, LightBurn 0.9.23
No connection or process issues.
Only (known and OS dependent) problem is the camera function, LightBurn can not start with USB camera connected to the computer or goes down when connecting camera. After LightBurn start
I can confirm that the MacOS older works fine for me with my Ruida 644XS. My OS is Mac OS BigSur (11.2.3) - I am able to send jobs to the laser and they appear and run as usual
If you're using the GRBL profile instead of the Gerbil profile, that's why.
For some reason, quite a few people have chosen to use the generic GRBL device profile instead of choosing "Gerbil" when using a Mini Gerbil, and the Gerbil profile enables a few settings that are required for the board to work - the biggest being the DTR signal enable flag. You can turn that on manually in Edit > Device Settings and that will let the board work as expected.
The reason it's not working with the newer versions is that the toggle wasn't properly hooked up so all devices actually had the DTR signal on all the time, and Arduino based boards need it off. So it actually works on older versions because of the bug, and now that the bug is fixed, you have to either use the profile that knows your board needs this setting, or set it manually.
When I send a job from my macbook pro, my Ruida laser machine does not respond and I get a message that there is a communication or connection problem with my laser machine. Yes, I can move the head and mark the frame of the work area. The problem only happens when launching the job, the machine does not respond. I have solved it with downgrade to the previous version.
Did you try either of the versions posted here? (post #40 above)
MacBook Pro OS Big Sur. Downloaded older version 0.9.20
And was able to use generic webcam with that version.