Hi all!
A little background to this project
I have a 130x90cm 100W CO2 cutter and my computer with Lightburn on it is a few steps away. Very often, I find myself clicking 'Frame' and running to the laser to see the framing of the work, only to arrive too late to see the actual framing in action. Also, I'd like to be able to Start etc. from the laser itself to keep a close eye.
So, I bought a very simple keypad (LogiLink ID0184) and used an app called 'HID Macros' to override some buttons to generate a key sequence like ALT+R for the Frame function. It works like a charm but but most keys on the keypad aren't used and the text on the buttons themselves don't make sense. So, owning a laser cutter and whatnot, I decided to make a mask/overlay for the keypad and its buttons.
Materials
Three layers of 3mm matte black acrylic for the panel body
4mm birch plywood for the buttons.
Two layers of double sided 1mm foam tape to stick the new wooden buttons onto the keypad buttons.
Elastic textile band to hold the mask onto the keypad.
Photos
Original LogiLink ID0184: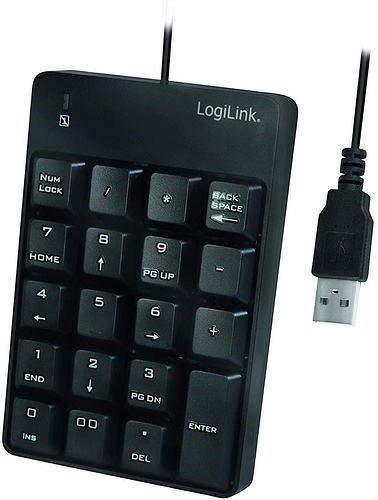 Finished product: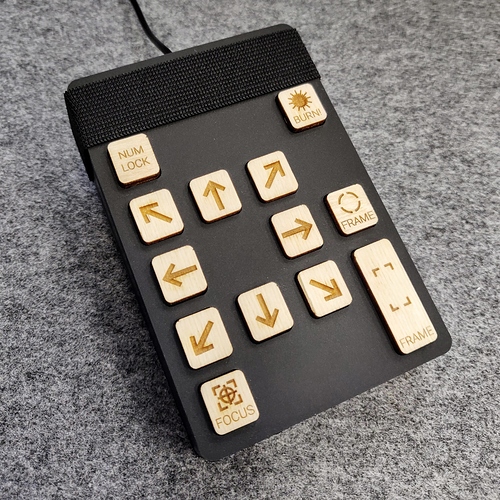 Bonus question for the Lightburn developers
As you can see, I've added buttons for rubberband frame and focus, but they don't work yet, because Lightburn doesn't have keyboard shortcuts for them. Is there any chance these could be added?